Dash in the Dark 2023/24.
The legendary Dash in the Dark series returns this month. see below for details.
Friday 3rd November 2023
Friday 1st December 2023
Friday 5th January 2024
Details: 7.00 pm £4 EOD only
Venue: Llandegla Forest Visitor Centre, Ruthin Road, Llandegla, Wrexham, LL11 3AA (www.oneplanetadventure.com). Safety briefing before start. Compulsory kit: whistle, waterproof top, hat, gloves and headtorch (with minimum 2 hours good lighting).
Age limit: Over 16
Registration on the night will be from 6pm. You will need to pay £4, collect your number, sign the race declaration usually found on the entry form. Race start is 7pm Prompt!
Dash in the Dark 2022/23.
The legendary Dash in the Dark series returns this month. see below for details.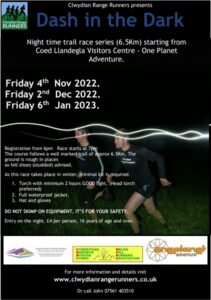 Dash in the Dark 2 – 14th Jan 2022.
Short notice
Only 50 max participants!
Pre-registration only!
No spectators.
No entry on the day
Enter by emailing gaz_jag@hotmail.com with your Name, Address, Age, Sex, club, Emergency contact number.
Registration on the night will be from 6pm. You will need to pay £4, collect your number, sign the race declaration usually found on the entry form. Race start is 7pm prompt!
Usual kit will be required. Waterproof / Windproof top, Hat, Gloves, Headtorch, studded shoes advised.
Please use the cafe afterwards, hot drinks and cake being served, the centre is opening just for us and with it being a small group we'd like it to be worth their while. This will be a smaller, low key event. Masks MUST be worn inside when not seated please. Hand gel is available.
No prize giving -sorry folks.
Update for 2021.
"After much thought and deliberation we have sadly made the decision to cancel this year's Race Up The Beast on 2nd June, and the Druid Race on the 7th July".
"Whilst there are changes we could make to the format this year to make them COVID safe, our decision came down to the possible impact on the community and reputation of the club and races going forward".
"Our races start and finish in the heart of the two villages and we're not confident the locals would thank us for attracting 30, 60 or 90 runners".
"We are looking towards the Dash in the Dark races which we hope will go ahead due to the venue being completely different, and depending on the situation, may alter our races for next summer".
CRR.
October 2020
We don't need to explain that it's been a strange year.  The situation regarding our sport has been unclear, at best, over summer, and since the initial lockdown restrictions began being lifted, then new restrictions came along, the situation has not helped our race organising at all.  Ultimately, as you will have guessed, there have been cancellations, delays, postponements, and all manner of complication in between.
The current situation is that we have decided to cancel all Fell races races for 2020 and also the Dash in the Dark series 2020 / 2021.
We are meeting on a Tuesday eve, occasionally on a Thursday,  following the all the local and Welsh COVID-19 lockdown rules and guidance.
Fingers crossed that we can get back to some normality for 2021.
CRR.
Advice/plea to Fell Runners: tread carefully. April 2020
There has been a lot of speculation about what is allowed (or not) under the current Government regulations and there are no definitive answers. There will always be folk who try to bend the rules to suit themselves but I urge you all to limit your activities to minimise even socially distanced contact with other people and to avoid any physical contact with gates, stiles etc.
Advice/plea to Fell Runners: tread carefully.
Now more than ever is the time to think about others and yourself. We can all help save lives by thinking and being considerate. Running is important for many of us, especially now the UK is in lock-down. This is our chance as a community to show leadership, compassion and maintain and build our reputation as responsible outdoor users.
Many of us are already working overtime in the NHS and other key roles across the country. We ask you please to read and follow this advice:
Run for sanity not peak performance – there are no races in the near future.
• Maintain base,
• Let those injuries recover,
• Do that strength and conditioning work you've always put off!
• Keep in touch! We'll all miss seeing our club-mates, well most of them, social media makes keeping in touch easier than ever, but the phones still work and not everyone is online.
Don't be a casualty – the NHS is busy and mountain rescue and other emergency services are too.
• Now more than ever – do not run if you feel at all unwell. Headache, sore throat, persistent dry cough, temperature of 38 or above and loss of smell/taste are all documented symptoms of C19.
• Don't go for long and/or strenuous runs – injury or heart attacks are best avoided!
• Avoid running on terrain where you may injure yourself (think about walking it) – Mountain rescue may not be coming to get you!
Kit Check – You are on your own.
• Take full FRA kit as a minimum
• Take enough food and drink; the café is shut, the pub is too 
Infection – keep your distance, and keep your hands clean
• Avoid other people outdoors where possible, go early or late in the day to avoid the crowds
• Keep your distance if you meet others out there.
• Think about gates, styles and anything else that people had their hands on. Imagine everything you touch is covered in pink paint! How do you prevent transferring it to other surfaces and users? How do you keep it off the rest of your stuff – keys, jacket, shoes, front door – wear gloves you can throw away or wash when you get home.
Route planning
• We love running but its non-essential: run from home
• As always, let someone know your route and when to expect you back. By text/phone if you live alone.
We all love the fells but the current situation means we all need to act differently. Other European countries have banned mountain sports and imposed 2km limits for all activities. Please let's all be sensible and keep the access we still have. One news story about a 'reckless fell runner needing rescuing' could be the end for now.
**Taken from FRA
October 19th 2019
We were fortunate enough to get two teams for the 2019 Fell Relay champs, held at Fairholmes in the Peak District National Park.
Here is the latest news  from CRR.
– see races page for up and coming races in the area.
***DASH IN THE DARK 3 IS ON TONIGHT – 25 JAN 2019  ***
***DASH IN THE DARK 3 POSTPONED ***
Due to ice and snow at Coed Llandegla we have had to postpone Dash 3 until 25 Jan 2019.
The car park and access road is too dangerous and OPA have closed the centre.
Sorry for any inconvenience caused.
Hopefully see you all next week !
There is now a Defibrillator at Coed Moel Famau – Thank you to the Clwydian Range Runners and Achub Calon Y Dyffryn for helping to bring this potentially life saving equipment to Moel Famau.
CRR donated £800 for the defibrillator that was raised by out races during 2017/18.
We had a very successful Emergency first aid course for Mountain runners, delivered by Conwy Training, on 20th March 2016.
This was a bespoke course aimed at mountain runners / cyclists and was provided for all members and for those who have helped marshal at our races over the last few months.
Hopefully the skills learned will never have to be used, but it will perhaps come in useful if caught out on a mountain or in a race marshaling situation.
The course was paid for by the Clwydian Range Runners club. Thanks to all who attended and to Pilar for the fantastic training. Thank you also to Denbighshire Countryside Services for the use of the Loggerheads conference room.
 Thanks to Jenny for the Autum 2015 edition.
CRR Newsletter – October 2015 – large
Manchester Velodrome – 15th April 2015.
Two CRR members had the chance to 'ride the boards' in the Manchester Velodrome on Wed 15th April. Following a nervous few laps the confidence grew and the laps were getting faster and faster with the riders getting up to the top of the circuit. After a couple of  hours of fantastic tuition from British Cycling coaches it was time to race…… against the clock.  Neil Coppack almost beat the 20 second lap time that seemed to be set as the benchmark on the night. 
Paris – Roubaix Sportive 11 April 2015.
Jim and Trevor made the trip over to Paris for the Pasix-roubaix sportive. "The ride was fine on the legs (100 miles of mostly flat), but brutal on the arms. I had pins and needles in my hands for the best part of a week afterwards, despite 28mm tyres and double bar tape. Great experience though and you really get a feel for the history of the race. Only fell off once, although unfortunately it was 100m into the Arenberg in front of a small crowd. Have attached photos of Trev and I in the Arenberg (after the fall thankfully)"
Welsh Athletics Annual Report 2014
Clwydian Range Runners  Newsletter – June 2013
Clwydiann Range Runners Newsletter  – October 2012